HOME ABOUT FILMS MUSIC LITERATURE ART PARTNERS




(click image for larger view)

From Despair to Beloved:
The Provocative Cinema of On Mark Productions
(©2015 Scott Kenyon Barker, Mark Baranowski. 282 pgs, 6" x 9")
Main cover image by Rick Rorie

PRESS RELEASE (.pdf download)

NOW AVAILABLE, from
BearManor Media
(Hardcover / Softcover)

For personally signed copies
direct from Mark & Ryli, order below!

In October 2001, a desperate screenwriter took the advice of actor/producer/director Bruce Campbell and shot his first independent movie, a short entitled Despair. With only a VHS-C camcorder, one location, natural lighting, two people (himself and his wife) and a rabbit at his disposal, he completed the film in two days. Two months later, it was picked up for worldwide distribution.
The screenwriter's name was Mark Baranowski. He and his wife, model-actress Ryli Morgan, would then come to be known as On Mark Productions, going on to make several more micro-budget shorts and feature films over the next ten years. Working with the likes of Brinke Stevens, Lynn Lowry, Suzi Lorraine and Teri Weigel, the couple became increasingly well known and respected within the realm of cult cinema. They've been featured guests at numerous horror film conventions along the eastern United States, while assisting in the productions of others, both on and off camera.
Co-written by Baranowski himself, From Despair to Beloved: The Provocative Cinema of On Mark Productions is the official guide to his entire film catalog thus far, spanning from 2001-2011. Each title is thoroughly analyzed and reviewed, beginning with Despair (2001) and continuing on to Ryli Morgan: Audition (2002), Runaway Terror (2002), The Zombie Room (2003), Expendable (2003), Sin By Murder (2004), The Powerful Play (2004), Heaven Help Me, I'm In Love (2005), Ill Times (2009), Mister Dissolute (2009) and Hardly Beloved (2011). Exclusive behind-the-scenes stories and photographs, shooting scripts, poster and video box art, ad mats, production stills and cast recollections make this book an exhaustive and invaluable resource for not only fans of Baranowski's films, but for anyone interested in true DIY movie-making.

AUTHOR BIOS:

SCOTT KENYON BARKER is the Executive Editor for Tucson Lifestyle magazine, Tucson Lifestyle Home & Garden, and a frequent freelance contributor to several film publications. He began writing at an early age, and sold his first short story to a national magazine soon after high school. While attending The University of Arizona where he studied theater, he continued writing, and began selling magazine articles to regional, national, and international publications. He has won awards from the Arizona Authors Association and the Arizona Press Club, and has taught magazine writing for Pima Community College (where he is an adjunct faculty member) and Tucson Open University. His screenwriting efforts began in the mid-'80s, and by October 2013 he had completed 12 screenplays, which include a TV pilot, several action thrillers, horror movies, and an indie-style drama. Several of his screenplays have been competition finalists, and he has been invited to pitch to major studios.
He was the co-writer and co-producer for From A Place of Darkness, with John Savage and Natalie Zea, now available on Blu-Ray. He was also the writer/director and producer for Dead On Site, released on April 5, 2011, by Acort International/Maxim Media, and is currently in post-production on the horror/martial arts feature film, The Z. In 1994, he was contacted by Globe Pequot Press to write a travel book - "Arizona Off The Beaten Path." He also has ghostwritten for an industrial psychologist, as well as contributed the text for a photo essay book about Tucson. The summer of 2003 saw a return to his roots in literary fiction, as he served as co-editor and contributor with Rhonda Baughman for the short story collection, "Quietly ... But With Force".

MARK BARANOWSKI is a multifaceted artist and the head of On Mark Productions. Beginning with drawing while still a child in his hometown of Buffalo, New York, his creative pursuits would later include song, book & screenplay writing, and then film-making. While honing his talent as a charcoal pencil artist, he recorded a wide range of music under such names as The Marksman, and Marquis. In 2000, he self-published a novella, "Tartarus, Book 1: Lot's Phantasms," and a collection of lyrical poetry, "Words Seeking Music". His second screenplay, which he wrote as a potential vehicle for Jean-Claude Van Damme, awarded him the services of a Hollywood manager, while his spec sequel to John Carpenter's The Thing caused quite a stir at Universal Studios. However, when nothing became of either, he vowed to neither waste any more time or to rely on the "studio system" to achieve his goals. To this day, he has no regrets for making this decision.
A masochist at heart, he now willingly resides in Charlotte, North Carolina – part of the Bible Belt – where his films remain privately enjoyed by the same people who criticize them publicly.

Read an excerpt from the book at Indiewire.com

Article about the book from The Charlotte Observer





~~~~~



(click cover image for micro-site!)

A Day In The Life Of The Shifties, Vol. 1:
"Deezer's First Day Of Pre-School"
(34 pgs, 5.5" x 8.5", ISBN 1-45381-678-3)

Mark's first children's book, and the first volume in a planned series featuring his comic strip characters, The Shifties! In this one, Deezer - the yellow Shiftie - is faced with his first day of pre-school... and he's not happy about it! Can he control his fear (and his tummy troubles) and make it through the day? Will the other children like him? How will he get home???
Read the book to find out!





~~~~~

Mark's Comic Strip, ALT SHIFTIES
(click image)

~~~~~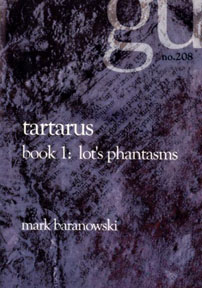 TARTARUS, Book 1: Lot's Phantasms
(©2001 Mark Baranowski. 103 pgs, ISBN 1-58898-208-4)
--out of print--



Mark's first book! A fact-based depiction of today's depraved society. The main character, similar to the Holy Bible's Lot, finds human perversity and indecency no longer tolerable and is on a mission to gather the righteous, in order to banish the devil's influence on us all. This book introduces the character's motives via horrible dreams, induced by a ghostly embodiment of evil...resulting in a climactic showdown, and an inspiring message.

Click HERE for excerpts from the introduction and first chapter of TARTARUS!

TARTARUS reviews:
"This is not merely an entertaining story but a book with an important message for society.
It leads you on a compelling and sometimes terrifing journey one individual endured during
which he discovered that humans are not to be the one to exact revenge but vengeance is
to be left in God's hands. The moral fabric of this world is on a steady decline and it takes a
courageous person to deliver this message. It also makes a very entertaining read."
--Lilith Stabs, model-actress-goddess

"You have totally entertained me with your work Tartarus..."
--Connie Foster,
www.ebooksonthe.net

The Hellnotes Book Review of TARTARUS (by Garrett Peck)
Greatunpublished.com is a subsidy book publisher which charges authors a per-title fee to support their
website and marketing efforts, with a share of profits channeled into literacy programs. Authors receive
the majority of post-production revenue. Less expensive electronic copies are also available. This seems
a viable option for works outside the mainstream.
Mark Baranowski's first novel is such a creature. The first in a projected series, Lot's Phantasms is
intended as a chilling apocalyptic horror novel and "a thought-provoking and inspiring manual for
righteous living." The unnamed protagonist, meant to parallel the Biblical character of Lot, has become
disgusted with the cesspool of moral decay pervading society. In fact, he claims to have seen the Devil
himself. He's telling his story, hoping to get God's good people to join him in his crusade to forestall the
End Times.
I can see where Baranowski would have had trouble finding a publisher, either mainstream or small
press, for this novel. Not because it isn't an interesting--indeed, exciting--read, but because it's
difficult to figure out who the intended audience is. Its appeal is to both fans of horror and inspirational
fiction. Horror fans will dig the gruesome murderers, nightmarish dream sequences and paranoia of the
first person narrative, but may be put off by the heavy-handed proselytizing. Christians will dig the
book's message, but might be offended by the harsh language and graphically rendered murders and rapes.
I'll admit to enjoying it, even though it pissed me off at times. I felt ambivalent about the protagonist. I
sympathized with him in purely human terms, because the poor guy literally goes through hell. His self-
righteousness, however, is not endearing. He's a virgin who lives with his parents. He works at a gas station
and claims to have no friends. As far as we're told, he's never done anything particularly good other than
believe in God and go to church. Raised Catholic, he believes masturbation is a sin, but does it anyway. He
has strong opinions about what constitutes good and bad people. The short list of good folks includes the
homeless, junkies, alcoholics, the meek, the anti-social, the handicapped and mentally unstable. The list of
bad people is much longer and includes both homosexuals and heterosexuals who bear more than two children,
as well as all other sex positive, abusive or exploitative people. Oh, yeah--and book reviewers.
If Baranowski's goals are to horrify, provoke thought and inspire, he hit the first two marks and missed the
third with me. I was scared, excited and thought a great deal about what I read. If I failed to be converted, it's
because I'm a gay, agnostic book-reviewing tool of Satan. He did inspire me to want to read the next volume,
though, so that will have to do for now.




WORDS SEEKING MUSIC
(©2001 Mark Baranowski. 72 pgs, ISBN 1-58898-259-9)
--out of print--

Personal reflections, originally written in 1997, in print for the first time. Divided into three segments, the book presents a lyrically poetic glimpse into one young man's encounters with love, his journey through life and his views on what awaits us after death. Often grim, yet ultimately inspiring, these poems were written especially for those who don't normally read poetry. Though sure to touch everyone, they aim directly toward the hearts, and minds, of today's youth. Whether viewed as a collection of simple poems or potential songs, Words Seeking
Music will undoubtedly remain stuck in your memory.

Click HERE for excerpts from Words Seeking Music!



~~~~~

SCREENPLAYS



OPPOSING REACTION (WGA #133479): Mark's first script! A young locksmith uses his abilities in a criminal manner.
Meanwhile, his alcoholic father struggles to make amends with his wayward son... A dark, controversial drama!

SILENT PARTNER (aka AUDITIONS FOR MURDER, this script was the basis for Mark's film, Runaway Terror):
An erotic thriller, focusing on a shady film producer who seduces his potential actresses with the promise of a "choice role"...
Soon, these would-be starlets begin turning up dead!

A DANGEROUS MOTIVE (WGA #133593): An action story, written specifically as a potential Jean-Claude Van Damme vehicle.
A Frenchman tracks five American policemen who raped and murdered his sister, and killed both her husband and infant daughter.
With the help of a suspended rookie cop, what ensues is an explosive mission of payback!

THE THING AMONG US (WGA #137789): A potential sequel to 1982's The Thing. Heeding the advice of Universal Pictures
(who hold the existing story rights, and didn't authorize this script), Mark is unable to offer this for sale to interested parties.
However, it is available to anyone personally interested in Mark's vision of where this chilling story could have gone...

A REFLECTION OF LIFE (WGA #I09225): Mark's most personal script. A mentally challenged boy gains a new perspective on
life after running away from home to live with his closest friend, his older cousin.



~~~~~

Mark's MIAMI VICE "Fan Fiction"



In 1997, Mark began writing a "sixth season" of Miami Vice; an exploration of where the show could have gone,
had it continued (instead of ending after five great seasons)! HERE is Heatwave, the first "episode"... Enjoy!!!



~~~~~



The following is an interview with Mark, conducted on May 26, 2001.

Q: Where are you from? How--if at all--has your sense of place colored your writing?
A: I was born and raised in Buffalo, NY. Basically a "city kid," I grew up in the midst of numerous cultural influences--both positive and negative.
Luckily, I had a good upbringing, due especially to my two sets of grandparents (though my parents divorced while I was still very young). I knew
my right from wrong, and just what to stay away from--drugs, crime, etc. I had many friends who read alot, and just as many who loved music.
I used those positive influences and attributed them to my creations, starting around the time of 8th grade.
Then a loyal follower of rap music, I began writing my own songs, and recording them onto cassettes. I juggled this endeavor with writing horror
stories, being a long-time reader of mysteries and Stephen King novels. At about that time was when my mother and stepfather moved us to the
suburbs, thus starting the worst 3 years of my life. The narrow-minded, bigoted people I had the misfortune of meeting in Wheatfield, NY, turned my
writing into some of the most graphic, hateful compositions I've ever put on paper. Of course, some of my current work could be described in such a
way, but I don't write to such extremes nowadays as a reflection of my environment. Now, it's partly because of the simple fact that this material sells
so well, and partly because it's my therapy. Now that I live in Charlotte, NC (and have recently gotten married), I may not be surrounded by what, to
me, was a truly frightening atmosphere, but I still can't shake the many unpleasant memories I have of those years. Not to mention, there are such
people and places all around the world...
So yes, my sense of place has certainly "colored" my writing--from bright and sparkling to black as night.

Q: When did you first consider yourself a writer?
A: I don't think I considered myself a writer until late 1999. Until that point, I was more focused on my music/songwriting, and that seemed more like
a hobby. I'd dabbled in screenwriting during that time, also, but never actually completed a script. I think finishing a project warrants one to be called
a writer. (laughs) If I wasn't a writer then, I most certainly became one a year later, when I quit my full-time job as a locksmith, in order to write exclusively.
I'm sure it didn't sound very credible when I claimed to be a writer, while still relying on my locksmith salary to make a living. This was only one of the
reasons I finally left that profession.

Q: Who or what has influenced your writing, and in what way?
A: I think my family has been the greatest inspiration for my writing. When I was younger, I'd get punished for writing "mature" topics/language, and
as I got older, they all insisted this wasn't a "practical" way to make a living--never mind it's what I loved to do! I received more encouragement from
strangers than my own relatives! Though it may not be the best reason to stay inspired, I've always promised myself that I'd make it one day, and be
able to say "How ya like me NOW?"

Q: What books have most influenced your life?
A: As a horror writer, I almost hate to sound cliched and say Stephen King was my greatest inspiration, but it's the truth. My mother had most of his
books while I was growing up, and I read all of them. Of course, this meant I used much of the same language as he did, which got me in trouble at home.
I also read every volume of the Hardy Boys and Three Investigators series. Honestly, I haven't read that many novels since, preferring film books and
movie tie-ins. Since my current projects are screenplays, I've become an avid movie-watcher, instead.

Q: What is the most romantic book you've ever read? The scariest? The funniest?
A: I don't think I've ever read a romantic book. As for the scariest, either William Peter Blatty's The Exorcist or Stephen King's Salem's Lot
comes in first. The funniest book would have to be (long pause) still to come...

Q: What music do you listen to while writing?
A: It's very hard for me to concentrate on writing while there's music playing. If anything, I'll put on a certain horror film soundtrack--something instrumental.

Q: What are you reading now? What CD is currently in your stereo?
A: Right now I'm reading KINSKI UNCUT: The Autobiography of Klaus Kinski--a fascinating book which complements an even more fascinating man.
I wish I could have met him. In my stereo as we speak is the new Depeche Mode album, Exciter. DM is my favorite band, and this is a wonderful album
(like all their previous releases). I'm looking forward to seeing them live, for the first time, next month in Philadelphia, PA.

Q: What are you working on?
A: Right now I'm working on a screenplay entitled STILETTO; a potential vehicle for rising model/actress, Tracy Lines. Actor Christopher Reeve has also
shown interest in it, since there's a character in the story specifically written with him in mind. I hope he gets the part.