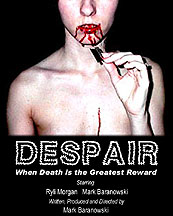 DESPAIR
(Video premiere date: 10/7/01)
©2001 Mark Baranowski
Color, 35/25 minutes
Unrated (for mature viewers)

Mark's solemn and haunting directorial debut, DESPAIR is the first release from On Mark Productions. Starring only Ryli and Mark, the film contains very little dialogue. However, its dark and stunning visuals more than make up for it! The film depicts a married couple's final hours, before both commit suicide. Christopher no longer wishes to live a life in which his artistic talents continue to go unrecognized and unappreciated... Yvette has no desire to live without him, and her depression drives her to both insanity and self-destruction. Mark also provides the film's soundtrack, which is a perfect match to its dark premise.

DISTRIBUTION NOTE:
DESPAIR was released on DVD on May 28, 2002,
as one of the bonus materials on Seduction Cinema's Roxanna.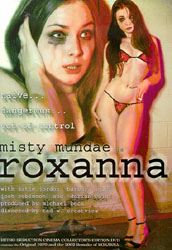 Official DESPAIR 24" x 36" Poster!
(click image for a larger view)
DESPAIR Production Stills
(click each thumbnail for a larger version of the image)








DESPAIR reviews:

"Mark, you are doing some good work there and I hope that recognition and success comes your way."
--Greg Davis,
Williamsville, NY

"Intense and intriguing...Enjoyed it to the utmost!"
--James McGriff,
Charlotte, NC

"Nice work on the special effects...Awesome movie, all around."
--Don Donovan,
Buffalo, NY

"WAY COOL!"
--Andi de Chantale,
Milwaukee, WI

"You almost made me want to take myself out ;-)
But I felt what you were doing...Keep up the good work!"
--Harold Fuller,
Charlotte, NC

"Loved it!!!!"
--Douglas Smyth,
Raleigh, NC

"GREAT movie. Wish it would have been longer as I was interested in what was happening..."
--Mike Little,
Manchester, CT

Despair is a short film that is nothing short of amazing! It was written, produced, and directed by Charlotte screenwriter and musician Mark Baranowski. He also scored the film and starred in it, along with his beautiful actress wife, Ryli Morgan. I happened to see "Despair" at an impromptu screening attended by a number of local actors, as well as a director and another producer. Like most of those watching "Despair" that night, I was completely mesmerized. For 35 minutes I couldn't take my eyes off the screen -- and it wasn't just because there's a fair amount of nudity. :-) Mark creates an interesting story and some very compelling visual imagery. The film deals with a starving artist who commits suicide to escape their mounting debt and the bleakness of his existence. His wife finds his body, and the loneliness and despair drive her to madness. Mark proves himself to be a good director and writer in this, his first attempt at directing and producing a film. He has a very strong vision and he brings it to life almost effortlessly. The musical score he composed for the film is haunting and adds to the eeriness of the story. Ryli Morgan is stunningly attractive on-screen. She commands attention visually in every scene, and is riveting in the role. I was very impressed with her work and look forward to seeing her in other films. There is very little dialogue, but the acting is good, the lighting very good. The mood created by Mark and Ryli is very ominous and foreboding, and the movie is visually impressive in places. When it was over, people applauded. Since I was there in part in my capacity as a writer for Reel Carolina Journal of Film and Video, I sat down with Mark and Ryli and interviewed them about "Despair". This is where it really gets amazing, as far as I'm concerned. With no training or experience in film producing or directing whatsoever, Mark Baranowski shot "Despair" in 8 hours, over 2 days, using a VHS-C camcorder and regular room lights. He edited the film linearly straight from the camcorder to the VCR, yet he managed to do fades and titles and get very clean cuts.
From beginning to end -- concept to finished product -- took just two weeks. That's right -- weeks. What he turned out isn't technically perfect, but it's damned impressive! I can't wait to see what he can do with a real crew behind him. I bought a copy of "Despair". Cost me 10.00. And that probably reimbursed him for his entire cost to make it. But it's worth every penny. Eerie images. A beautiful nude woman. Eating razor blades. And a pet rabbit. What's not to love? ;-) This should be a great encouragement to writers and actors who want to produce their own films. It can be done. It can be done cheaply, and still be very effective. "Despair" is a crash course on how to do it. And Mark is already thinking about his next film... Check it out.
--David Richardson, producer
In Focus Films

"My plate's off to anyone who hacks through all the baloney to actually finish a film--long, short or otherwise!... I watched it (when my kid was out of the room), and I did enjoy it. That's quite a sexy actress playing your wife!... Good luck with it, and keep up the good work... If you ever cast SAG, don't ferget me!"
--Bill Moseley ("Choptop" from Texas Chainsaw Massacre, Part 2),
Los Angeles, CA

"I like it (cute bunny, too)...Keep me in mind if you have some future projects..."
--Lilith Stabs,
Atlanta, GA

"You're a genius!"
--Everette Hartsoe,
Salisbury, NC

"Congrats on getting it out there..."
--Linnea Quigley,
Pompano Beach, FL

"I thought it was very well done. You had some really nice imagery in there...The acting was great. Especially the bunny :)"
--Amy Lynn Best (actress/co-producer/etc., THE RESURRECTION GAME),
Pittsburgh, PA

Excerpts regarding Despair from "Joe Bob Goes to the Drive-In" (for the week of 12/26/01, entitled "Two Aspiring B Movie Queens Strut Their Stuff"):
"...the stunning Ryli Morgan has a pouty sexy look that some director should make use of..."
...But now let's allow our wandering eyes to flutter down to Charlotte, North Carolina, where would-be starlet Ryli Morgan is working with a different kind of blood--her own. The video is called "Despair," and it was written, produced, directed and edited by Buffalo native Mark Baranowski, an illustrator, novelist, composer of music and all-around Renaissance Guy who stars as the anguished artist who props himself up in the bathtub and OD's on prescription pills rather than face another day of rejection and unpaid bills. Ryli comes home, finds her lover's body, and descends into a trance-like mourning state that results in her getting nekkid, writhing around on the carpet, watching old videos of her beloved, then cutting up a snapshot so she can worship his disembodied head at a candlelit altar on the living room floor. (It's not clear what happens to the body, since she returns to the bathtub later to complete her self-mutilation with a razor blade.)
It's not exactly a musical comedy--the title pretty much sums it up--but "Despair" is erotic in a morbid sort of way, and shows off the considerable assets of Ryli Morgan to the max. The final line of the voiceover narration--"There is no justice; only despair"--reminds me of those New York underground films of the eighties in which EVERYBODY DIES and you're expected to understand that everyone MUST die. There aren't a lot of surprises here, but the lingering shots of Ryli's forsaken but still horny bod make her look great even when she's splattered with blood. In other words, they did it the drive-in way....
...Two dead bodies in "Despair." Twenty-two breasts. Wrist-slitting. Razorblade-chewing. Photo-album mutilation. Gratuitous bunny-rabbit closeups. Drive-In Academy Award nominations for Mark Baranowski, as the Kool-Whip-chugging misunderstood suicidal artist, for saying "I just can't do it anymore--what good is the talent if no one appreciates it?"; and Ryli Morgan, as the deranged lover who likes to get nekkid and paste the head of her dear departed on a Beanie Baby. Two stars.
--Joe Bob Briggs,
Drive-In Movie Critic of Grapevine, Texas

"An unsettling viewing experience that is best not watched by anyone suicidal or mentally unstable... A very nice low budget short that shows great promise for Baranowski's future work."
--Alan Simpson, Sex Gore Mutants
"The Independent Home of Horror on DVD"

"Man, that's some HEAVY content! That'll rip the emotion right out of you, I was tired after watching it!"
--Torch, ROCK HARD HORROR
Fargo, ND

"I really liked it!!!! The imagery was really beautiful...it seemed to capture those intense feelings of loss, fear, etc. It was like getting a glimpse into the moments before suicide. That's a really fascinating place and a really untouched place...it's one of those in-betweens like dusk and dawn and it's really beautiful. You definitly have alot of talent, Mark...I hope you always continue expanding your cinematic visions and moving forward because what you see is worth others seeing. I've already recommended [Despair] to some friends..."
--Cristina Crowther, UNDERWORLD Haunted Attraction
Stillwater, MN

"...a very moody piece of film, relying on atmosphere rather than on action, and on bizarre, almost surreal setpieces rather than in-your-face effects, all accompanied by very little dialogue (off-screen monologue mostly) and a musical score that always hits the right chord..."
--Mike Haberfelner, Search My Trash
Austria, EUROPE

Mark's article on the making of DESPAIR at The Dog Pile