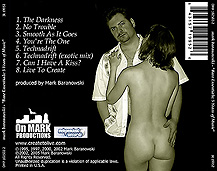 -front cover -tray card-
MARK BARANOWSKI--"Bare Essentials: 5 Years of Music"
©1997-2002 Mark Baranowski

Track list:
1. The Darkness
2. No Trouble
3. Smooth As It Goes
4. You're the One
5. Technadrift
6. Technadrift (exotic mix)
7. Can I Have A Kiss?
8. Live To Create

A "greatest hits" collection of Mark's best tracks from 1997-2002!!! Beginning with his rap compositions as The Marksman, this album follows Mark's growth & expansion in music all the way to his early work as MARQUIS! CD booklet contains his liner notes.